Ravi Shankar: my complicated connection with a man and his music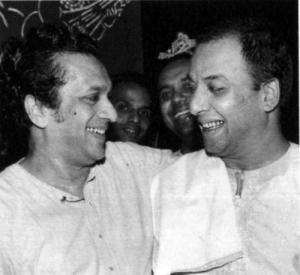 I'm saddened by the passing of Panditji Ravi Skankar. He lived a long and amazing life, touching numbers of people around the world with his music. The New York Times and LA Times have good chronicles of his life, and they're wonderful reads.
I remember listening to Ravi Shankar for the first time and buying my first CD of his, which I listened to again last week. But when I think back on my life completely honestly, my connections with Indian classical music, and by extension Ravi Shankar, have been tied closely with my experiences of racism and immigrant oppression, being a child of Indian immigrants. Over the course of my life with these oppressions, I've been left with a complicated set of feelings, not always the loving fondness towards Indian classican music and Panditji that I'd like to hold.
When I performed classical music on sitar regularly, I often felt that I was not completely being received for the music I was playing, but as a symbol of what I represented–a young adult of Indian heritage playing classical music on an instrument that was so tightly linked to the mysticism associated with South Asian culture.
As a symbol, I was often perceived by my elder South Asian audience as a great hope–that the culture my immigrant elders left behind decades earlier could actually exist, live and grow here in the States. After a performance one Aunty told me with overwhelmed eyes that she hadn't heard the sitar since she left India thirty years earlier. Thirty. Years.
As a symbol, I was often perceived by my young adult South Asian audience as a way to connect with something that had been lost. Many of us grew up trying to hide ourselves as people of color. I myself was targeted a great deal as a young person because of my heritage. Trying to be invisible was the safest thing I could come up with to survive. But it came with a great sense of loss in myself. I never felt I had a strong connection with the history of my heritage like my non-South Asian peers seemed to. That was a big part of why I decided to learn sitar, and I think it's a big part of why my young adult audiences were drawn to my shows.
As a symbol, I was often perceived by my white audiences as a 'curious,' 'interesting,' 'alien' other (I was actually called those things). It was a regular occurrence for a white member of my audience to recant when they first heard Ravi Shankar's music and what they thought and felt about it. Little of that had to do with me as an artist, or engaging with me as a person. I felt like a token. I suspect some of them may have been trying to find community to dispel their own loneliness. Perhaps part of the draw was to feel connected with others in ways they weren't able to find elsewhere.
I felt overwhelmed by the expectations these perceptions put on me. I felt I was perceived as a symbol more than appreciated for the music I presented. I felt I wasn't being seen and appreciated for my creativity and full humanness, I was being asked to fix longstanding hurts that entire communities were struggling to heal from. That wasn't the reality of what was happening, but the enormity of those feelings weighed heavily on me. I got enough messages in these veins to feel discouraged from continuing with my instrument, and I still struggle with this today.
On top of the performance dynamics, I've lived a whole lifetime of bits and pieces of my culture being commodified on large scales–yoga, food, spirituality. Classical Indian music has also been used to tokenize South Asian culture. A strum of the taraf strings on sitar often accompany the establishing of a South Asian character or scene in the media–quick images of murtis draped in garlands, incense filled rooms, crowded metropolitan streets.
I had a lot of angst for these images as I grew up, and I directed it towards the figures I thought were responsible for the mass exporting of my culture–Ravi Shankar, The Beatles, Om Puri. I now realize they were merely pieces of a larger system of exploitation that has existed for centuries. But without the depth of historical information I gained as an adult, I ended up dumping much of my angst on Panditji.
I'm now able to make a distinction between my experiences of oppression and the music of my heritage, but it's been and continues to be a struggle. I can now appreciate the long, creative, loving life that Panditji Ravi Shankar lived and the struggles he faced in his own work. I can now listen not for what he represents, but for the richness, depth and dynamism of his music. RIP, friend.